Get instant access to a professional collection of vocal chops and one shots inspired by Gray, Lauv, Zedd, Starley, Cheat Codes, Sigala, Mike Perry, Matoma, Lost Kings, and more.
Regular price
$19.79
Sale price
$9.90
Unit price
per
Sale
Sold out
View full details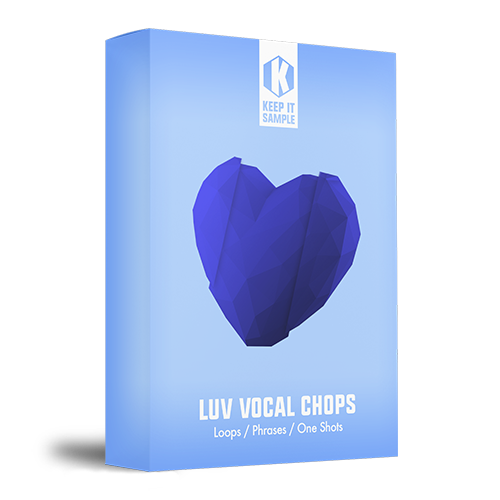 Preview the sounds of LUV Vocal Chops
LUV Vocal Chops
Dear producers, we've just baked "LUV Vocal Chops" and it's ready to be served!

This vocal pack focuses exclusively on vocal chops, the element that makes a track immediately recognizable: moreover their high quality is important to make 'em catchy!
Although the creation of vocal chops is apparently simple we know well that it's not quite true - how many hours have you spent shredding vocal sounds without being able to come up with something satisfying 100%?

No prob guys, "LUV Vocal Chops" contains already perfectly edited, mixed, and ready-to-be-used samples!

These save a lot of time and allow you to focus on the rest of the product, 'cuz we know how important time is for a music producer!

But it ain't over yet.

This audio suite also has a wide range of captivating phrases and adlibs+ a careful selection of one-shots ready to be included in your favorite sampler: basically, everything you need to create your original vocal leads!

"LUV Vocal Chops" is perfect for Pop and EDM producers, but it can also be used for Rnb, House, Future Pop, and Future Bass!

To create these samples, our sound designers got inspired by the freshest and most popular artists of the moment such as Gray, Lauv, Zedd, Starley, Cheat Codes, Sigala, Mike Perry, Matoma, Lost Kings, Gryffin, Loote, and many more!
FAQs 👇
Are Keep It Sample samples royalty free?

YES. All our samples are 100% royalty free. It means you can use everything in your tracks/commercial projects and publishing them without asking our permission. However, redistribution and repackaging are strictly prohibited!

If you have any further questions regarding copyrights and royalty email support@keep-it-sample.com.
What payment options are available?

We accept payment by credit card (Visa, MasterCard, AmericanExpress, Maestro), by PayPal, Apple Pay, Google Pay, and Shop Pay.
What DAW/Plugins do I need?

All our samples/MIDI files can be used in any DAW or audio editing software. Some packs may include Xfer Serum presets.
How does the download work?

To download our free samples, just fill out the form you find on the page of each pack.

If you have trouble viewing the form, try to reload the page. Once done, you will be redirected to a page with the download link.

Instead, our premium sample packs are delivered instantly via email after the purchase.

You'll be sent a link for your download as well as an order confirmation.

If you lost your download link, you could request a new one via mail at support@keep-it-sample.com.
How do I unzip the product file?

All our packs are compressed in a .zip format. To extract them you need to use a free program like WinRAR or 7-Zip.

Copy the .zip file to the location on your hard drive you wish the sample pack to be.

On PC right click and use the Winzip Extract to here tab. On Mac just double click the .zip file.

This way ensures all files and folder stuctures will be correct.
Any other questions?

If you have any other questions, you can contact us through our live chat or at support@keep-it-sample.com.